Medical Companion Services
"Daring to care, no matter where" means we care for you everywhere, regardless if you are traveling for treatment or leisure, domestically or internationally. We provide catered medical assistance that enables you to fulfill your wanderlust dreams. Not only do we offer this service on an individual basis, we even supply our providers for group trips.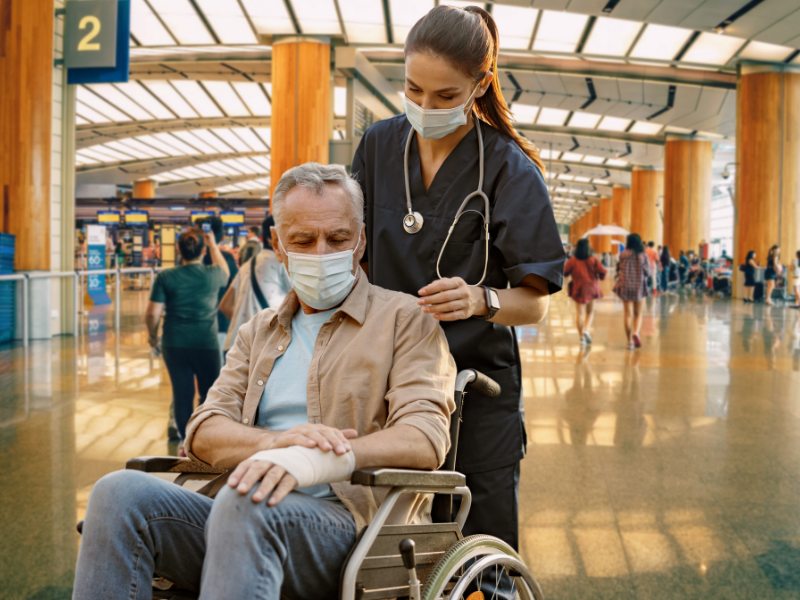 Who can benefit from traveling with a Medical Escort?
People who face challenges due to advanced age or dementia

Family members who need psychological support or are on the autism spectrum

Survivors of various injuries or ailments that have special needs requiring continuous aid

Cancer warriors who want to see more of the world and their loved ones but are in a weakened state

Adventurers and thrill-seekers who realize having a nearby medical provider would be handy
What kind of services do Medical Escorts provide?

Medical repatriation

Mobility assistance

Pain management

Psychological support

Medication, oxygen, or IV administration

Help with all ADLs (activities of daily living)

and so much more!
As Front Line Personnel are Disaster Response trained and deployed, Front Line EMS providers have handled the most severe types of medical disasters and situations. This prepares our people to take on any incident that may come their way, making them the best candidates to escort and provide care to those looking for assistance.
To learn more about how Front Line can best serve you, fill out the form below, and we'll get back to you as soon as possible
Medical Providers We Deploy
Let's Start
When lives matter and seconds count, you want precise, experienced, quality care, right on the front lines where it's needed. For anything from rapid disaster response to remote area standby services and tactical deployments, Front Line EMS will Dare to Care, No Matter Where.